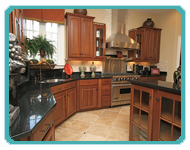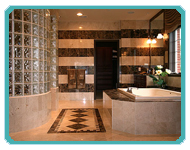 Our Specialty:
Tile Sealing
Stone Sealing
Natural Stone Sealing
Grout Sealing
Granite Sealing
Areas We Serve:
Maryland
Delaware
Ocean City, MD & DE
Eastern Shore
Sealing
We can permanently seal granite tops, bathrooms, garage floors, tiles, marble, grout, walkways, patios, and stones of all kinds.
We strive to have 100% customer satisfaction, which is why we use  the highest quality sealers and cleaners available.
Dry-Treat's impregnating sealers are technologically different from commonly available silicone, teflon and siloxane impregnators. Specially engineered molecules penetrate much deeper into porous materials and bond permanently inside the pores, without blocking them. This creates a water repelling and oil repelling barrier which lasts longer and is deep enough to protect against many types of damage in addition to stains such as salt efflorescence and freeze-thaw cracking.
Dry-Treat's impregnating sealers stand up to cleaning chemicals, traffic, sunlight, and even commercial cleaning techniques such as high pressure hosing.
Dry-Treat backs their technology with written performance warranties of up to 15 years, when the sealers are applied by a Dry-Treat accredited applicator.
Dry-Treat products are suitable for use indoors and outdoors, and provide permanent stain protection for natural stone, tile, grout, concrete, bricks, and porcelain.
Contact us today for a free no obligation consultation and estimate.