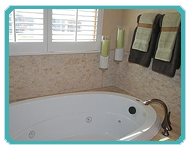 Our Specialty:
Tile Repair
Stone Repair
Natural Stone Repair
Grout Repair
Granite Repair
Areas We Serve:
Maryland
Delaware
Ocean City, MD & DE
Eastern Shore
Repairs
Tile & Stone Repairs
With more than 20 years experience in the tile and stone installation business, Coastal Tile & Stone can offer the highest quality repairs available. We are able to repair or replace the most difficult types of tile and stone issues that can arise, including cracked tiles, loose grouting, water damage, and repairs to all types of underlayment. Contact us today to receive a free estimate and consultation.
Bath & Kitchen Re-Caulking
Coastal Tile & Stone now offers bath re-caulking in addition to our other services.  It is very important to periodically replace the caulking in wet areas such as showers, shower pans, tub decks, or countertops. Over time caulking can become hard and less flexible causing it to crack or loosen. Failure to replace cracked or loose caulking can allow water to penetrate through it causing damage to other areas of your home including sub floors, ceilings, drywall, insulation, as well as the tile job itself. Water penetration can create a breeding ground for mold and mildew. It is recommended to replace caulking in wet areas annually. We will completely remove and replace the caulking leaving the area completely sealed and looking clean and new again.
Contact us today for a free no obligation consultation and estimate.